Iris Apfel: wit, wisdom and the art of style
'When you don't dress like everyone else, you don't have to think like everyone else,' so comments Iris Apfel, the 94-year-old fashionista and self-styled 'geriatric starlet'. Her movie Iris is full of such nuggets of wisdom, all equally as inspirational as her flamboyant, bird-of-paradise dress sense.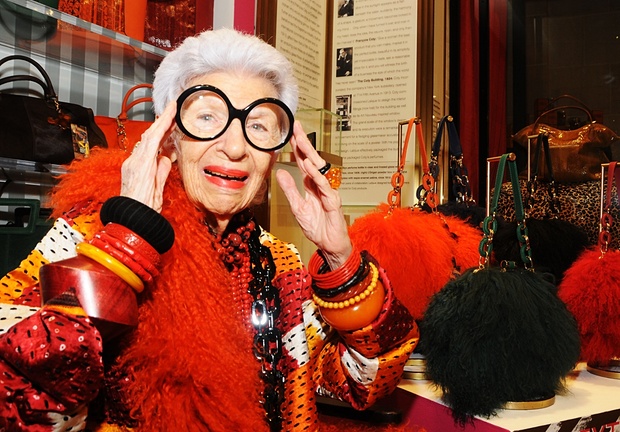 When I went to see the film – a documentary covering the past three years of her life – I was hoping to pick up a few fashion tips and discover more about the intriguing nonagenarian global style icon. However, I hadn't expected to leave the cinema feeling so inspired: positive about ageing, good about wearing whatever I like and relieved that it's OK not to sweat the small stuff in life. The film is also a love story of Iris's light-hearted relationship with husband Carl who celebrates his 100th birthday in the film (and is no slouch in the sartorial style stakes himself). Iris's no-nonsense attitude, wit, wisdom and sheer charisma make for an entertaining night out and an inspiring approach to life. Here are my top Iris style tips…
'If you have simple clothes, you can change the whole look of your outfit with just one piece.'
It's all about the pared-back outfit, perhaps with architectural proportions, then build colour and interest with shoes and accessories (for more on that subject, see the next point…).
'My mother worshipped at the altar of the accessory. She could do things with a scarf that I've never seen anyone do.'
Whether it's piling on necklaces in similar tones but contrasting shapes to create a 3D effect, stacking bunches of colourful bangles up her arms, or sporting a pair of outsize shades, Iris uses accessories to transform and elevate her look. Her mantra? 'More is more and less is a bore'…  Take your outfit to a new level with a scarf, necklace, bangle or fabulous specs.
'Colour can raise the dead.'
A skin-flattering pop of colour can make you feel and look amazing. Try experimenting with shades of red, hot pink or even neon. And if you worship at the altar of black, build your colour confidence with a zingy, shoe, bag or scarf.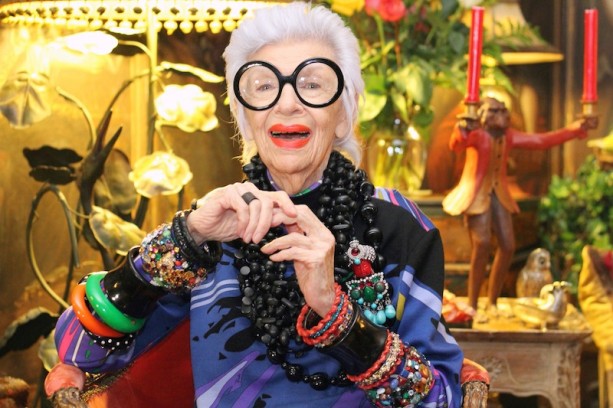 'I'm a denim freak.'
Well so am I, and I was impressed to hear that Iris was one of the first women to wear jeans: back in the 1940s she asked a local workwear store (with only men's sizes) to run her up a pair of jeans. Since then, denim has become her style staple and the perfect backdrop for her jewellery collection. In Iris she sports a variety of funky oversize denim shirts embroidered with cartoon characters, cool denim jackets, and slim dark jeans.
'Life is grey and dull, you might as well have fun with the way you dress and amuse people.'
This is from a woman who thinks nothing of combining giant owl-shaped sunglasses, mis-matched clanging jewellery and clashing prints. In other words, getting dressed should make you happy – so wear what you want, when you want and don't overthink it.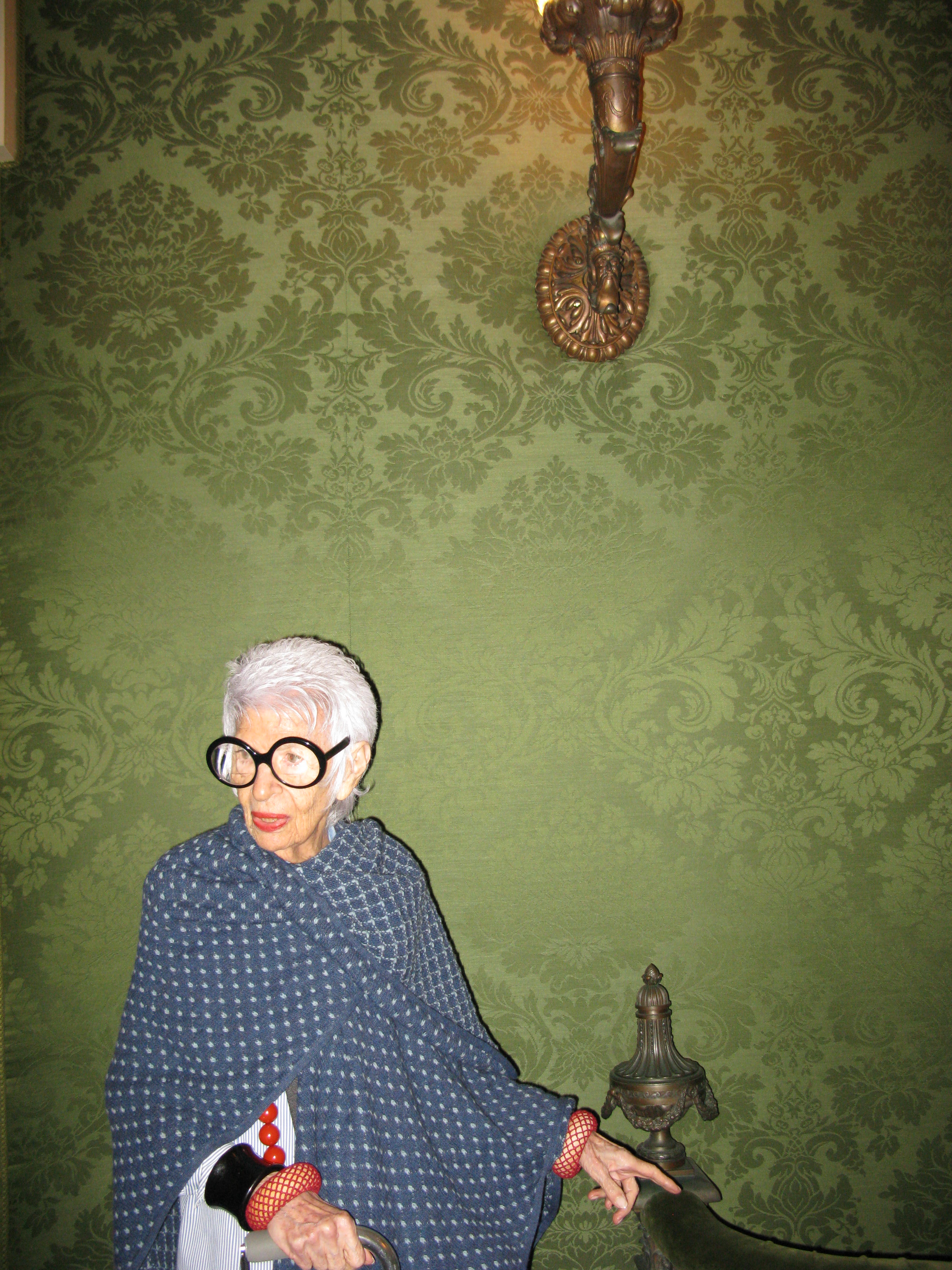 'If you aren't comfortable in your clothes, no matter how glamorous they are, you're going to look stiff, which is no fun.'
Which amounts to be yourself: avoid slavishly following the latest trends, develop a look that makes you feel comfortable and confident. As Iris says, 'Look in the mirror and see who you are and buy what suits your way of life.'
'Fashion's hard work; you have to put a lot of effort into it. Everything I have, I go out and find.'
Work at it! Whether it's haggling with a market trader over ethnic fabric, foraging for vintage jewellery or trying on endless outfits, being stylish takes effort. However, if you can't be bothered, don't worry, as Iris says, 'It's better to be happy than well-dressed.'
More Iris-isms
On style: 'If you're hair is done properly and you're wearing good shoes, you can get away with anything.'
On plastic surgery: 'Unless you have a nose like Pinocchio or have been in a fire, why mess…? You might come out worse. I've seen few people that have come out like a Picasso.'
On being pretty: 'I'm not pretty, and I'll never be pretty, but it doesn't matter. I have something much better. I have style.'
On fame: 'I think it's very funny that after all of these years I'm hot property. I'm an overnight sensation, but my overnight is 70 years.'
On getting dressed: 'It has to feel right… I mix and match and do it differently each time. I don't have rules as I would break them…'
On being Iris: 'I have two great gifts: curiosity and a sense of humour.'
Iris is showing at selected cinemas across the UK. #irisapfel
Do you have any Iris-isms? If so, please post in the comments below.